When it comes to home decor and interior design, people are always looking for inspiration. That's nothing new, of course, but where they're looking continues to evolve.
In the past, they might have had to pick up a magazine or visit a showroom. Then, many turned to shows like Good Bones, House Hunters, Fixer Upper, Property Brothers, and Love It or List It as HGTV took the industry by storm. And now, as we're seeing more and more from millennials and Generation Z in particular, they're also jumping onto social media and scrolling through platforms like Instagram, Pinterest, YouTube, and TikTok for the latest home decor trends and ideas.
So, who are these people actually following on social media? And as a home decor business, how can you use this to your advantage as you build out your social media strategy?
For many brands, the answer is influencer marketing.
What is influencer marketing?
In essence, influencer marketing is the idea of getting someone else — an influencer — to promote your products on social media.
As we'll get into a bit later, there are many different ways this could come to life, from simple product endorsements to unique videos created and posted by the influencer. Although the latter would usually be disclosed as an ad, sponsored post, or paid partnership, this type of content is still seen as more authentic and relatable than an actual ad or organic post from your company channels.
Why?
Because instead of coming from a logo, there's a real person behind it. And not just any person. A person who has already built up a niche following and, ideally, a high level of trust within that niche. In fact, not only do many consumers trust influencer recommendations more than information coming directly from brands, they also trust them more than recommendations from their own friends and family.
So, for home decor retailers and manufacturers, influencer marketing is a great way to speak to a new community of home décor enthusiasts who may not otherwise be exposed to your brand, and who should be easier to convert. More importantly, it's a great way to drive revenue, when you consider that marketers typically earn $6.50 for every dollar spent on an influencer marketing campaign.
Who are these home decor influencers?
An influencer can be literally anyone who has, well, influence over others. It might be a celebrity, but it doesn't have to be. In fact, 80% of marketers prefer working with smaller influencers because they don't cost as much (some may even accept product as a form of compensation), often have higher engagement rates, and are more likely to become long-term partners.
Here's how influencers are typically classified based on follower count, with estimated pricing courtesy of author and social media consultant Andrew Macarthy.
Nano (1–10K followers): $10–$100 per post or free product
Micro (10–100K followers): $100–$500 per post
Mid-tier (100–500K followers): $500–$5K per post
Macro (500K–1M followers): $5K–10K per post
Mega (1M+ followers): $10K+ per post
So, in the home decor space, an influencer could be a professional interior designer or a famous HGTV personality with millions of followers — certainly, getting access to that kind of reach could be hugely beneficial. But they could also just be a DIY enthusiast who knows how to create good content.
Based on your budget and objectives, you can determine what works best for your business.
What kind of content do home decor influencers create?
There's no one-size-fits-all approach to influencer content. And that's part of the appeal. These are all different people with different styles, interests, and capabilities when it comes to content creation.
Whatever they post needs to be authentic to themselves.
That said, a key benefit to home decor influencer content is that it allows you to showcase your products in real-world settings, which is what customers ultimately want to see. Here are a few different ways your influencers can help accomplish this.
How-to videos (such as a flooring installation)
Before-and-after home renovation photos
"On a budget" makeovers
"Shop with me" content (focused on the shopping experience/selection process)
Unboxing videos
Home tours
Product reviews (in the form of videos, photos, and/or blogs)
You'll notice that "how-to" videos were at the top of the list. That was by design, because a recent survey of more than 1,000 U.S. consumers found that they're the preferred type of influencer content — followed by stories with short bits of information with videos and/or photos, and photo-based posts with information in the captions.
Where can I find home decor influencers?
You can search for them manually, or you can work with an influencer agency/platform. Again, this will depend on your budget and objectives.
Both options can be effective.
If you opt for a manual search, start by looking through your own social media mentions and followers. Knowing that authenticity is key when it comes to influencer marketing, anyone already interested in your brand should definitely be considered. You can also monitor relevant hashtags such as #homedecor, #interiordesign, and #DIY, create a landing page or call-out on your website, see if your competitors have used anyone that you like, ask your employees for recommendations, use one of the free or free-ish tools that are available, and, of course, run a good old fashioned Google search.
Alternatively, there are no shortage of businesses who specialize in this very area. Luxury vinyl flooring brand, Flooret, for example, found a community of influencers through Upfluence and worked with Refersion to track the progress of their campaign.
OK, let's see some examples
Flooret collaborated with popular DIYer, Carrie Anne, to promote their Silvan Resilient Hardwood Collection. Anne created a short step-by-step video showing how she installed the flooring, which she said helped her save $4,000, and highlighted the floor's durability in her caption. She also shared a discount code to entice viewers to order their own samples.
Flooret collaborated with popular DIYer Carrie Annie to promote their new hardwood flooring collection with a step-by-step video.
Rust-Oleum Canada leaned heavily on influencers for the launch of their pre-tinted wall paint collection, Colour Spark. Not only did they partner with renowned real estate mogul and HGTV personality Scott McGillivray on fun product endorsements and how-to videos, they also sought out reviews from a variety of social media influencers. And according to senior brand manager Rhoda Williams, every single one of them used the Colour Spark room visualizer, powered by Roomvo, as part of their content.
Roomvo helps simplify the shopping experience by allowing customers to test out your products – in this case, by virtually painting their walls – before proceeding with a purchase. For shoppers, this helps eliminate the guesswork. And for retailers and manufacturers, it drives up to 5x the conversions.
"They've all engaged in the Roomvo app and all of them had a really superior experience and made their colour choice because they were able to see it in their room," Williams said of the influencers.
Here's one such example from The Sorry Girls, who used Colour Spark paint for their bathroom makeover. The video, sponsored by Rust-Oleum Canada, has more than 325,000 views on YouTube.
Daltile launched an influencer campaign in 2020, the "Style Squad," featuring high-profile names such as singer/songwriter Jason Derulo and fashion designer/TV personality Margaret Josephs who are using Daltile products in their own projects. In addition to content shared on social media, Daltile features the Style Squad prominently on their website for increased visibility.
"This type of digital/social presence helps further set our Daltile retailers up for success with our products, by reaching and influencing customers before they even enter retailers' showrooms," Paij Thorn-Brooks, vice president of marketing for Daltile, said in Floor Covering News.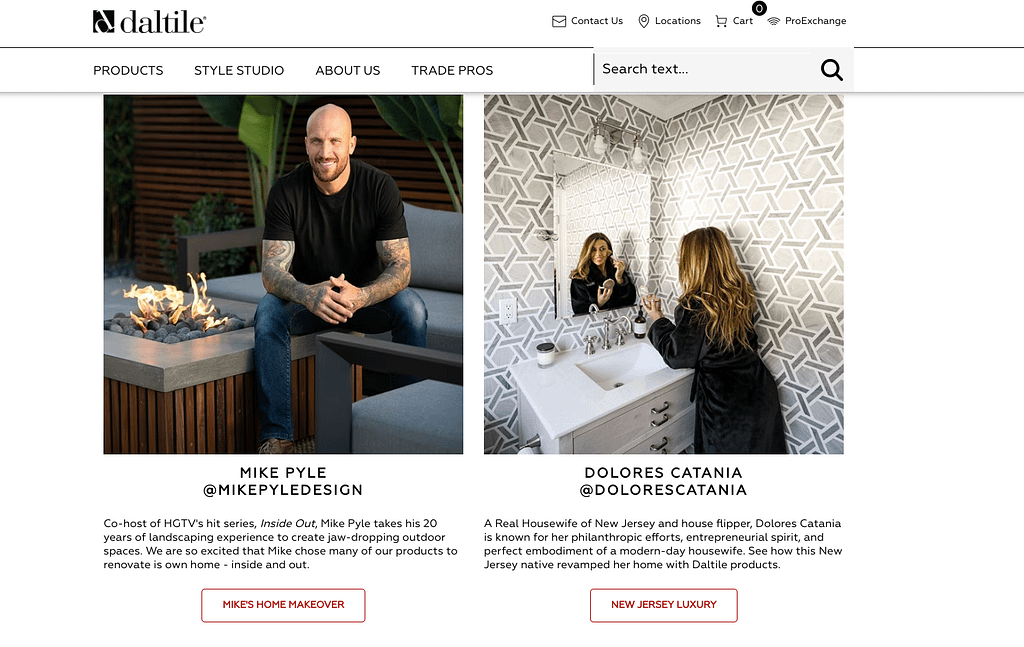 Expand your audience with influencer marketing
Those home decor enthusiasts are out there – "home decor" is the most popular category on Pinterest and the same hashtag has more than 143 million posts on Instagram. And they're ready to engage with your brand. Influencer marketing is one of the best ways to help you find and ultimately convert them.