For paint giant Rust-Oleum, Roomvo wasn't just a part of their new product launch.
It made the whole launch possible.
"Roomvo got the paint into stores," said Rhoda Williams, Senior Brand Manager at Rust-Oleum.
Williams has been managing primer, cleaner and wall paint brands for Rust-Oleum for more than 23 years. In 2020, she was tasked with bringing the manufacturer's first-ever pre-tinted paints to market in Canada: Colour Spark.
The challenge? COVID-19. The pandemic would soon close paint stores across the country and put the in-store experience on hold. The Colour Spark launch was delayed for two years as the entire industry adapted to the need for alternative shopping experiences.
"If you can't go into the stores, you have to be online, and we weren't ready for that at the time," said Williams. "We needed a mechanism to get consumers to bring the colour into their own home and see if they can live with it."
Rust-Oleum needed a ready-made digital solution that could bring their new paint to life — for consumers and retailers. That brought them to Roomvo.
Ready to launch
After discovering Roomvo online, Williams was impressed by the interactive experience, putting the visualizer to work on finding a new colour combination for her bedroom.
"It's fantastic," said Wiliams. "You can take a photograph of your wall, and you can put two or three colours adjacent to each other on different walls."
Compared to other room visualizers she tried, Roomvo felt faster and more realistic.
"It's quick and intuitive," said Williams. "No furniture gets cut out, and no details get hidden."
Best of all, Roomvo was ready to implement immediately. Developing an in-house paint visualization solution could take years, especially for a big company like Rust-Oleum. But Roomvo went live within weeks.
"We wanted a package that was ready to go," said Williams. "Roomvo just made a few adjustments for us before we popped it into our website. It was perfect. We were up and running within weeks."
Roomvo went live within weeks on the Colour Spark website.
Selling into stores
After integrating Roomvo into their website, Rust-Oleum made room visualization an important part of the sales pitch to get the paint into stores.
Before meeting with retailers, Willams would take a picture of the front lobby and use the visualizer to re-paint the walls. It was guaranteed to make an impression.
"They just sat there and went 'Wow,'" said Williams. "I think it really helped us sell the paint program and get our paint listed at retailers."
Retailers were won over by the rich content and features on the Colour Spark website that helped replicate the in-store experience, and Roomvo was usually the highlight.
"They saw our library of images, product knowledge videos, and paint calculator," said Williams. "But Roomvo was definitely one of the biggest takeaways from presenting. We told them we have this platform available for consumers — help them make a choice."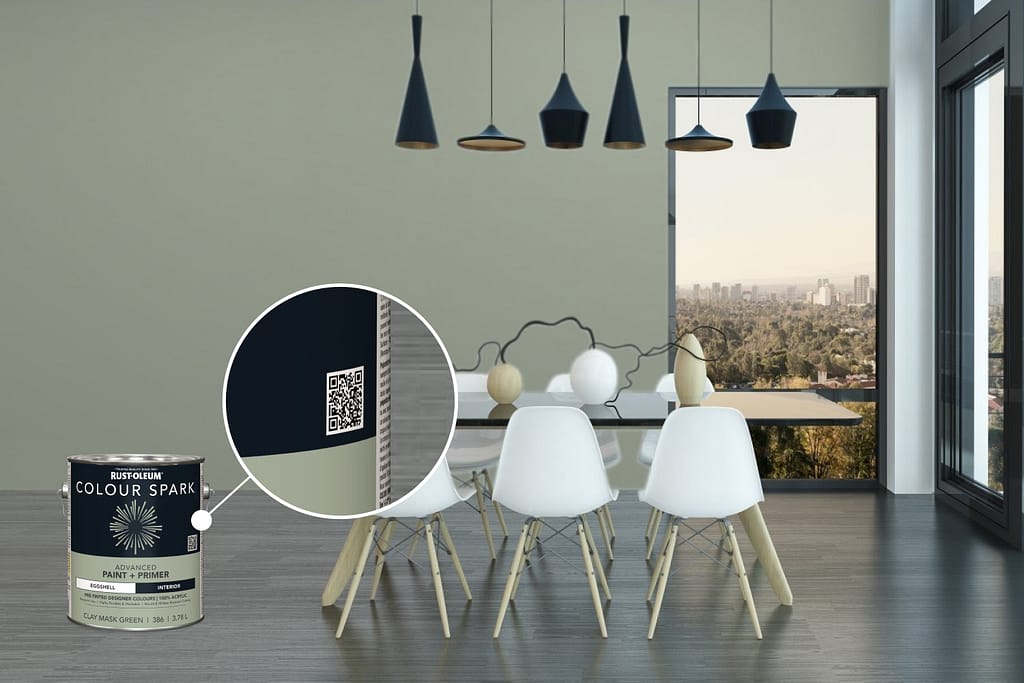 On every label, a QR code links directly to the Roomvo visualizer to view that colour.
'Roomvo is everywhere'
Colour Spark finally hit the shelves in March 2023. Roomvo was a focal point in the launch, featured in packaging, content, paid media, and more.
"Roomvo was a huge part of what the launch was about," said Williams. "It's right on our labels in the stores, it's on our social media, it's at the end of our TV commercials. It's on all the YouTube pre-roll. Roomvo is everywhere."
On the front of every label, a QR code links directly to that colour on the visualizer.
"All of our packaging includes a QR code right on the front of it," said Williams. "As soon as you scan the QR code, it takes you to that colour in Roomvo."
Followed by more than 2 million subscribers on YouTube, the Sorry Girls used Roomvo to choose new colours for their bathroom makeover.
Shared experiences
Colour Spark's digital launch strategy featured partnerships with several home decor influencers.
Many content creators have shared their experiences with Roomvo on their social media channels, including DIY superstars the Sorry Girls. Followed by more than two million subscribers on YouTube, hosts Becky Wright and Rochelle Gracey showed their success using Roomvo to choose a new paint colour for their bathroom makeover. The video has now been viewed more than 30,000 times.
"Every influencer we've engaged has had a really superior experience with Roomvo," said Williams. "And each one made their colour choice because they were able to see in their room."
A new way to buy paint
It's an experience Williams can relate to, having finalized her colour choice for the bedroom with Roomvo.
"I went between the Clay Mask Green and the Stellar Navy," said Williams. "But as soon as I compared them side-by-side, I knew that the navy was going to be a better fit for my furniture and the lighting."
For shoppers and businesses, Roomvo simplifies the paint selection process — and delivers more reliable results.
"If you were to do a paint selection traditionally, you would go into a store and pick up three or four paint chips," says Williams. "Then, you would come home and try to imagine them on your wall. But unless you've got a visualizer, you're really just taking a shot that you pick the right colour."
By applying paint to the wall digitally, shoppers can skip the paint chips and get straight to the most important question: does this colour look good in my room? By simplifying the process, Williams hopes she can get people started on the projects they've been putting off. After all, changing the colour is the easiest way to change the mood of a room and make it feel personal.
"People want customization with the least effort and cost, and you can change the entire environment in a room with colour," said Williams. "So we want to help move past go and get started on that paint project. It shouldn't be intimidating!"