Tom Cockerill is an entrepreneur, business coach and flooring expert based in Darlington, north-east England. In 2018, Tom and his wife Sarah closed a 13-year-old business to begin a new challenge: teaching UK flooring businesses how to accelerate business growth and get ahead of the competition. Or in Tom's words, how to "work smarter, not harder."
Their consultancy business, Cockerill and Co., offers training and mentorship for UK flooring professionals, while the UK Flooring Podcast interviews experts in the flooring industry and beyond.
I sat down with Tom earlier this month to chat about the UK flooring industry: what's popular for consumers, what's challenging for flooring professionals, and what flooring suppliers and stores could be doing better.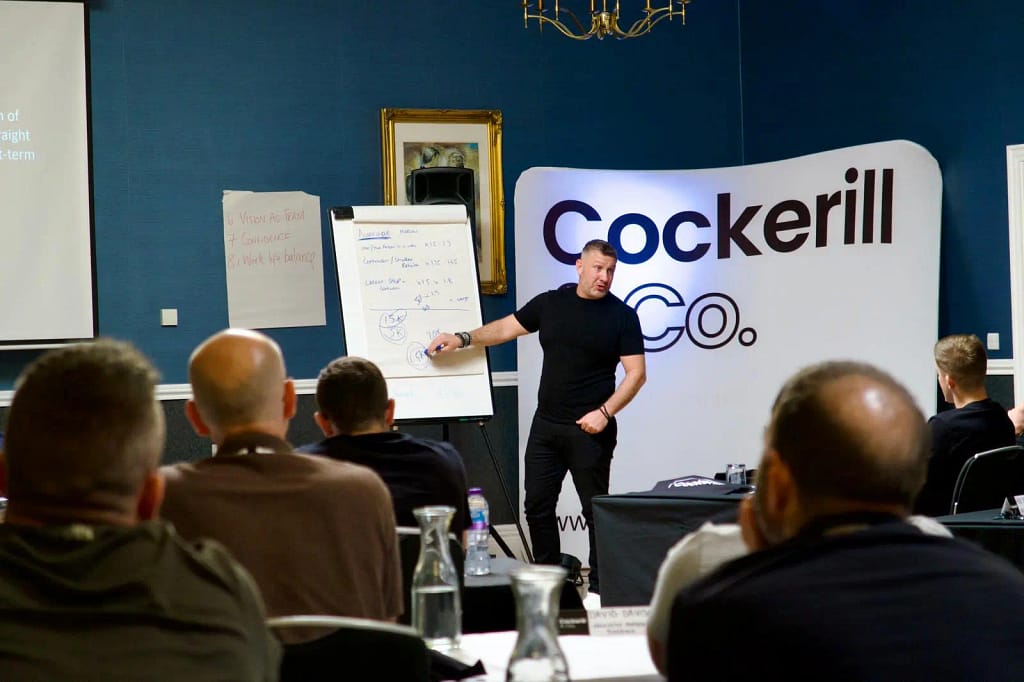 1. What state is the UK flooring industry in, and where do you see it headed?
The UK flooring industry has a significant skilled labour shortage. Compounded by an ageing population, filling that skills deficit is something we need to get a handle on.
We're already starting to see manufacturers and training providers get together to create a set of training standards that will formalize the training of flooring installers and bring it in line with other trades. I hope that continues. With a more joined-up approach to training and education, the industry should become more attractive to those coming into the trade — and provide better pay and working conditions for those already in it.
I believe the UK's consumer flooring industry is going to significantly change over the next 25 years. We'll see more accessible flooring options, a focus on eco-friendly materials and the growth in practical cost-effective choices that require minimal maintenance. These consumer preferences are going to be driven by several factors, including:
Aging population: With more elderly people, we'll see more demand for flooring that's safe and easy to move on.
Sustainability: People will prefer eco-friendly flooring like bamboo, cork, and reclaimed wood, as well as low-VOC options. Wood refurbishment will remain popular due to the increased desire to restore not replace.
Expanding rental market: Landlords and tenants will choose durable and cost-effective flooring options to save on maintenance.
2. Can you describe the typical experience for someone shopping for flooring in the UK? What are some of the biggest challenges shoppers face?
After starting their research online, most shoppers visit a brick-and-mortar store to view the flooring in person.
The biggest challenge is that many businesses don't offer real education to homeowners to help them find the flooring that's right for them. At the same time, consumers are often too focused on budget or aesthetics, which means they don't always make the best choices.
We feel that shop owners — and online retailers in particular — have a duty of care to educate buyers to ensure their investment is a sound one.
To begin with, retailers should offer clear and detailed information about flooring types. Pros and cons are a good place to start. In addition, flooring professionals should offer education on wearability, practicality and lifestyle, as well as guidance on budget and long-term maintenance.
Retailers should do what they can to maximize the value of in-store experiences, such as interactive displays for room visualization. Customers should also be encouraged customers to touch and interact with the products. Finally, store owners should offer ongoing training for staff to ensure up-to-date knowledge.
3. What factors do shoppers consider when choosing where to purchase their flooring?
People will always buy from people. You can have the biggest and best showroom in the country, but without asking the right questions, understanding what the buyer wants, and creating a clear vision, your buyers will not buy. Creating a world-class experience for your customers is a must.
It's amazing how many times I have seen a contractor or a retailer ask a customer what they are looking for without even asking about their situation. They don't ask about lifestyle, room usage, budget, maintenance expectations, long-term plans for the space, environmental concerns, allergies, health considerations, installation timeframe or past flooring experiences. This list could go on …
By asking relevant questions, you can personalize your recommendations and create a better shopping experience for the customer.
4. What impact is technology having on the buying journey — online and in-store?
Online digital showrooms and room visualization tools engage consumers, while AI-driven chatbots offer guidance. In physical stores, interactive displays and contactless payments enhance convenience. Behind the scenes, retailers and contractors are reaping the benefits from inventory management and customer engagement technology which is streamlining their operational efficiency.
5. What role does room visualization play in the purchasing process? How can it benefit consumers and flooring businesses?
It helps consumers visualize the dream. Room visualization helps flooring professionals recommend floors that the consumer can then see in real terms — almost like "try before you buy."
In our opinion, room visualization should be used at all points of the sales process as it heightens the buyer experience and offers the certainty and clarity that buyers crave.
We believe this emerging technology will transform the purchase process for consumers and retailers alike. If retailers get the opportunity to invest, we'd recommend doing so early to stay ahead of the competition.
6. What consumer trends are you seeing in UK flooring? Are any particular materials or colours popular right now?
Luxury Vinyl Tile (LVT) and laminate manufacturers are using advanced printing to replicate natural wood and stone and enhanced coatings to make floors more durable and resistant to stains. LVT herringbone has been massive for the domestic and commercial sectors so far in 2023. I think this is due to its unique blend of aesthetic appeal and durability. It offers a sophisticated yet resilient flooring solution that suits various design preferences while standing up to the demands of high-traffic environments.
Thinner veneered ultra-wide HDF core wood products are also making waves, thanks to their favourable pricing. As shoppers become more environmentally conscious, we may start seeing more demand for sustainable products this winter. Longer term, we may see "reusable" and repurposed floors emerge.
In terms of colours, that would depend on where you are in the country. In the south, darker floors are making a comeback, while in the north we are still seeing lighter-washed and natural shades. For wood specifically, the demand for solid oak floors is increasing, which is interesting — and slightly unexpected!
7. What inspired you to start your consultancy and podcast businesses?
The flooring industry can be a challenging and lonely place, and there is a massive lack of up-to-date support, training and personal development. With our skills and experience, we realized we could support others within the flooring industry.
8. What are the three top tips you give to the clients you're mentoring?
Know your numbers. Without knowing your numbers you can't make informed decisions and this can mean the difference between going out of business and excelling in your business.
Be memorable and sharpen up your client experience. Create a lasting impression by enhancing the quality of interactions with your clients. Ensure that each touchpoint is finely tuned to leave a distinct and unforgettable impact. Personalized attention and exceptional service mean more referrals and more repeat business.
Do the work with dedication and relentlessness to drive growth and success. With a "can-do" attitude, you can conquer any challenge and achieve limitless possibilities.