A shopper walks into a brick-and-mortar home improvement store, or any retail store for that matter, and they find themselves interested in a product.
What's the first thing they do?
Aside from checking out the price, they'll probably pick up the item if they can and try to get a closer look. Then, they might read up on some of the features. Maybe they'll flag down a salesperson to ask some questions or request to bring home a sample. And all this will help them decide if they'd like to continue their buying journey, or better yet, make a purchase.
But what if they're shopping online?
These days, most homeowners conduct research online before proceeding with a home improvement project — especially millennials and DIYers. As a home improvement manufacturer or retailer, how can you convert these browsers into buyers?
Ultimately, it comes down to your product pages.
What is a product page?
A product page, also known as a product detail page (PDP), is the page on your website that highlights everything your customers need to know about a specific product.
Pretty straightforward, right?
Apparently not.
According to research from Baymard Institute, 55% of the 71 top-grossing e-commerce websites in the U.S. and Europe have either "poor" or "mediocre" product page user experiences. And not a single one recorded a "perfect" score.
This page is where your customers usually make their purchase decisions, so your business could be leaving money on the table. You can have the best product in the world, but if it's not perceived that way on your product page, it probably won't sell.
Perception is reality, right?
For these reasons and others, product pages are the most important part of a customer journey. Chances are you've invested a lot of time and money to even get your customer to this point. Don't let them slip away. Follow these five tips to create a product page that sells.
1. Write a good product title and description
As with any interaction, you always want to leave a good first impression. This is especially true in the online world, where 60% of website users say they'll leave a site if they don't find what they're looking for within five seconds, according to Forbes.
So, you better make sure your product title captures your customer's attention, considering it's likely the first thing they'll be seeing. Try to make it as descriptive as possible and include relevant keywords to help shoppers find your page on search engines. For maximum visibility, you'll want to be following these practices in your product descriptions as well.
But don't go overboard.
One of the keys to high-performing product pages is scannability. With both your title and description, keep lots of white space and avoid large chunks of text — Baymard found that the optimal line length for body text is 50-75 characters. Don't be afraid to use bullet points, bold text, and sub-sections to communicate different things, such as specs, materials, and FAQs.
An important reminder for your description is to not just focus on the product's features but on its benefits as well. As much as you may be proud of your manufacturing technology, for example, your customer wants to know what's in it for them.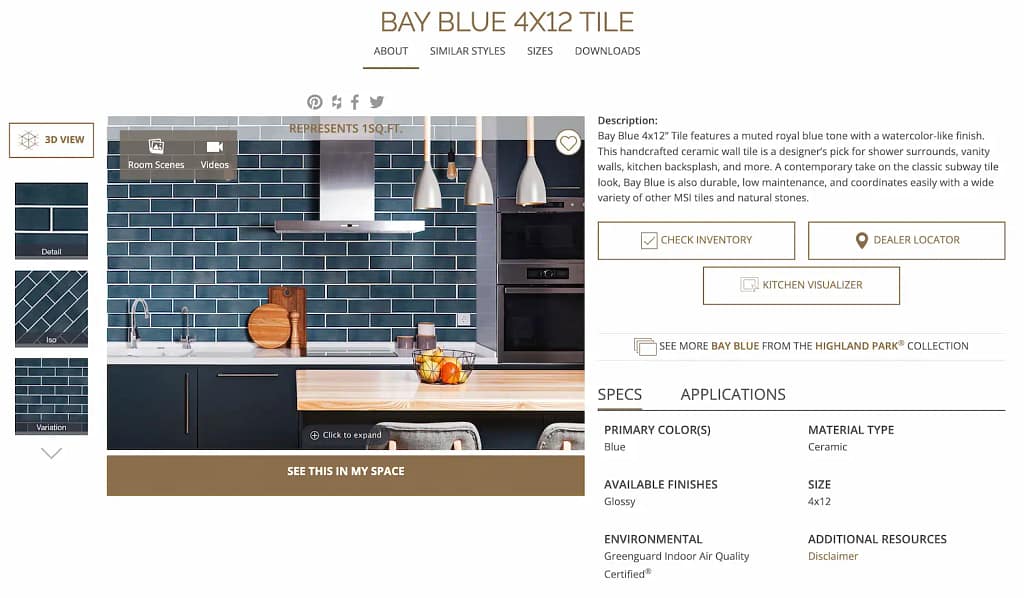 2. Include customer reviews as social proof
So, what you're saying about your product is the first step towards creating a product page that sells. But what others are saying might be even more impactful.
In fact, ratings and reviews are now the "top consideration" affecting purchasing decisions on product pages, according to PowerReviews' survey of nearly 13,000 consumers in the U.S. Even more than the price.
While Salsify's 2023 Consumer Research Report found that product descriptions are still equally if not more important in helping consumers decide what to buy, it was unanimous in the five countries surveyed (the US, the UK, Germany, France, and Australia) that "better reviews" lead to higher-priced purchases more than anything else.
All this is to say: shoppers trust other shoppers. Go ahead and let them be your salespeople by enabling and encouraging reviews on your product pages.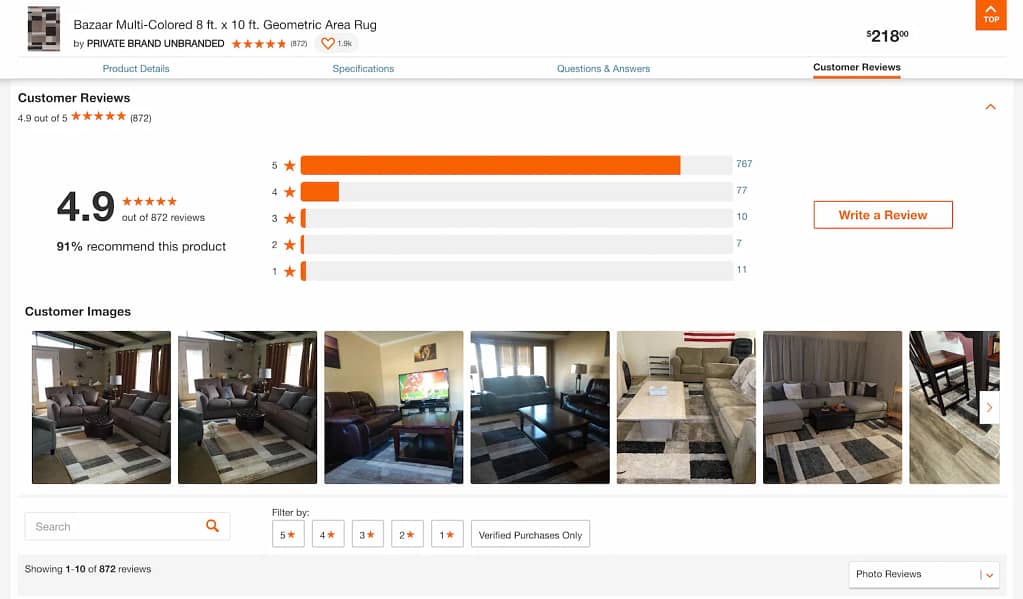 3. Use high-quality images to showcase your products
Shopping for home decor is a highly visual experience by its very nature. It's essential, therefore, to also have highly visual product pages.
This starts with product imagery.
"Without the ability to physically inspect the product or hold the item in their hands (as you generally would expect to be able to do if evaluating a product in person), product images often represent the best way for users to gain a rich visual understanding of the product," Baymard stated, adding that 56% of users immediately start exploring images after landing on a product page.
But it's not as simple as throwing up a couple of quick shots.
As Baymard found, low-resolution images "drag down users' perceptions of products." So, you'll want to be using high-quality images that put your products in the best possible light (both figuratively and literally, as there's nothing worse than a poorly lit photo). They should also have a sufficient level of zoom, allowing your customers to take a closer look as needed.
Consumers expect anywhere from five to eight photos per product, according to Salsify research, including a variety of angles, product detail shots, and room scenes that show the product in use.
4. Bring your products to life with room visualization
Showing customers your product is great. Showing it to them in their own space?
Even better.
That's where Roomvo can help. By partnering with Roomvo, home improvement manufacturers and retailers get access to a best-in-class room visualizer that enables customers to preview what your products are going to look like in their home. This has been proven to increase conversions by up to five times, which should come as no surprise considering that 95% of all purchasing decisions are driven by emotional connections.

If someone is renovating their kitchen, for example, they're more likely to fall in love with your countertops, backsplashes, and/or floor tiles if they can see them come to life in their own kitchen – rather than having to rely on demo rooms, product detail photos, or samples. Thanks to Roomvo's proprietary technology powered by augmented reality, they can now do that with the click of a button found right on your product pages.
These types of "enhanced content" experiences, which may also include product videos, comparison charts, and instruction guides, can help set your home improvement brand apart from the competition, as Salsify explained in their product page best practices guide.
"A typical product page includes a product description, a few images, and maybe a video," Salsify stated. "But the best product page experiences take it a step further with interactive elements … All these extra content elements bridge that gap of not physically touching and seeing the product before purchasing."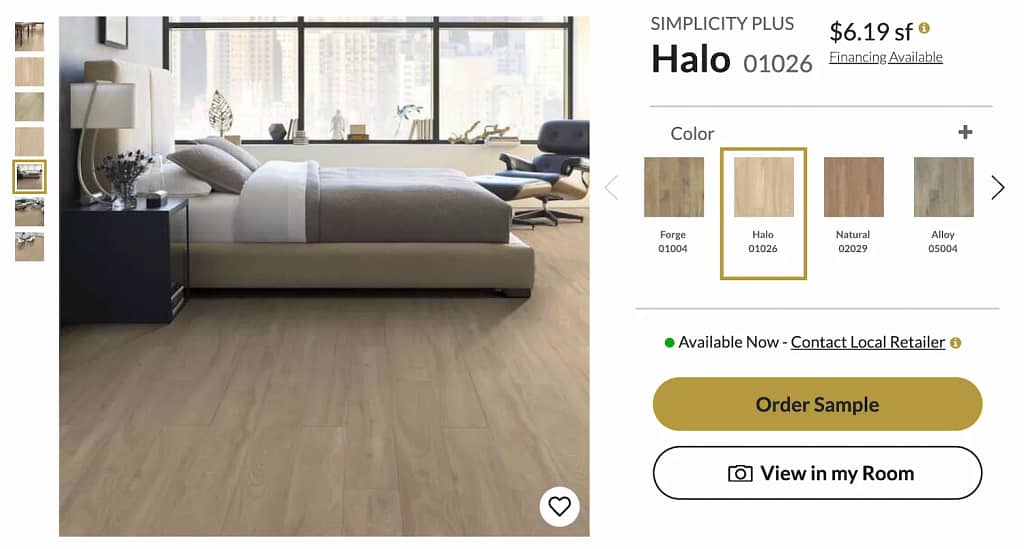 5. Have a clear call-to-action (CTA)
At the end of the day, the goal is conversions.
So, it's critical that your product pages have a clear call-to-action (CTA). If you're an e-commerce website, it could be "add to cart," "buy now," or "order sample." If you're not equipped to sell from your website, "where to buy" or "find in-store" works as well.
Regardless, your CTA needs to stand out. There are several ways to accomplish this, but some of the basics include placing it in a highly visible location that's "above the fold" so users don't have to scroll, using contrasting colours from the surrounding areas, and making sure it looks like a clickable button.
Without a prominent CTA, all your efforts could be going to waste.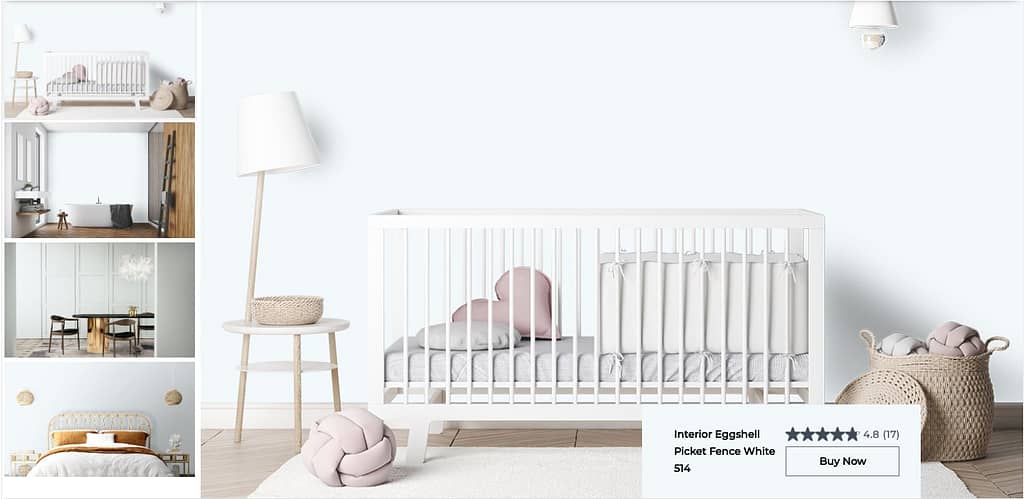 The centrepiece of e-commerce websites
It's easy to see why product pages are widely regarded as the centrepiece of e-commerce websites. If someone is going to purchase your product, even if it's in-store, chances are they're going to find themselves on this page at some point in their buying journey. It's almost inevitable.
Get yours right and the sales will follow.