As a home decor brand, you know how difficult it can be to convert a lead.
That's because you're typically selling "high-involvement products," which consumers only purchase after extensive thought and consideration. These types of purchases, which may include cars, houses, or, in this case, home decorations/renovations, are often perceived as high risk to consumers. And, as a result, you can expect them to consider many factors (and brands) before making a purchasing decision.
So, what does this mean for home decor manufacturers and retailers?
Knowing that people undergoing home improvement projects are likely to conduct research online at some point in their shopping journey, you need to make sure your website is a one-stop shop for everything they might want to know — or see. And not only do you need to present all the relevant information, you need to present it in a way that differentiates you from the competition.
Here are eight examples of engaging content experiences to help you do just that.
1. Lookbooks
In the world of home decor and interior design, visuals are everything. So, it's no surprise that lookbooks have been so commonly used by home decor brands through the years.
In simple terms, a lookbook is a collection of beautiful images designed to tell a story and showcase what your brand has to offer. They're similar to product catalogues, but focused less on individual products and more on aesthetics – or, in other words, the "look."
In the past, lookbooks came in the form of actual books or magazines. Nowadays, they're mostly digital, and this can be used to your advantage.
Take this lookbook from MSI, for example.
It's not just a book. Rather, it's an immersive experience that includes full-screen video, image carousels, and animated "design tips," among other features. The lookbook appeals to a wide audience by highlighting the top design trends of 2023, but also showcases MSI products prominently and includes direct links to the product pages, where shoppers can learn more or, better yet, make a purchase.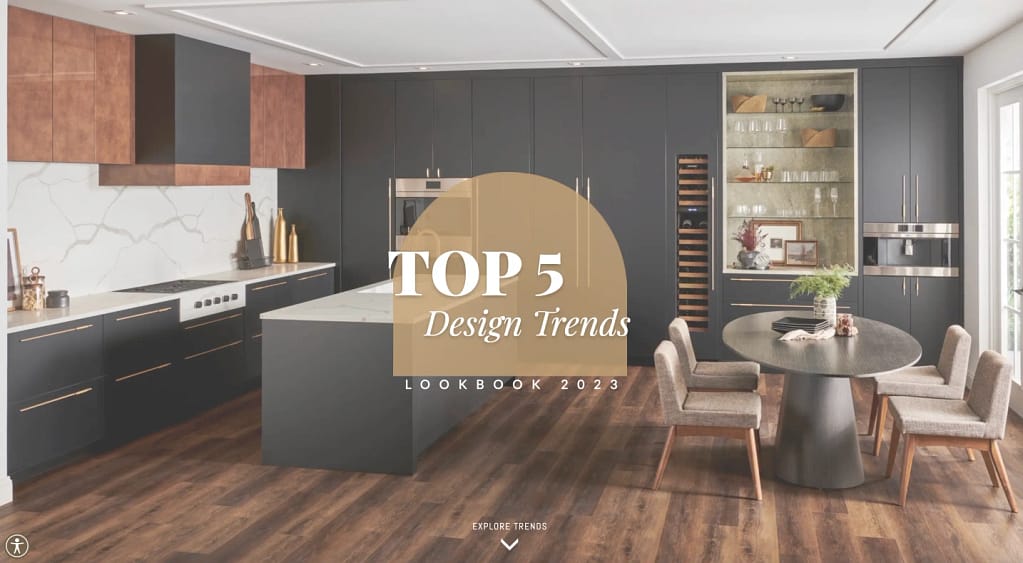 2. How-to guides
People aren't undertaking home decor and improvement projects every day. If they're installing new flooring or renovating a bathroom, it might be something they do only once or twice in a lifetime. For many, it's a completely foreign concept.
That's where "how-to" content can help.
The Home Depot, for example, has a comprehensive guide on their website that explains how to choose and clean different types of flooring, while also outlining the best flooring options for each room. A.S. Creation has a similar page with a step-by-step guide for wallpapering.
Ideally, this type of educational content will help your customer get closer to a purchase. But either way, it's a great way to build trust and credibility with your audience.
3. Quizzes
Along the same lines, you can help your customers hone in on the right product through interactive exercises that help personalize the shopping experience. Mohawk Flooring does this with their "Floor Finder Quiz," which poses the following four questions:
Which room are you designing?
Which look appeals to you?
Which feature(s) are most important to you?
Which color fits your space?
Based on the customer's answers, Mohawk presents the flooring option(s) that best suits their needs.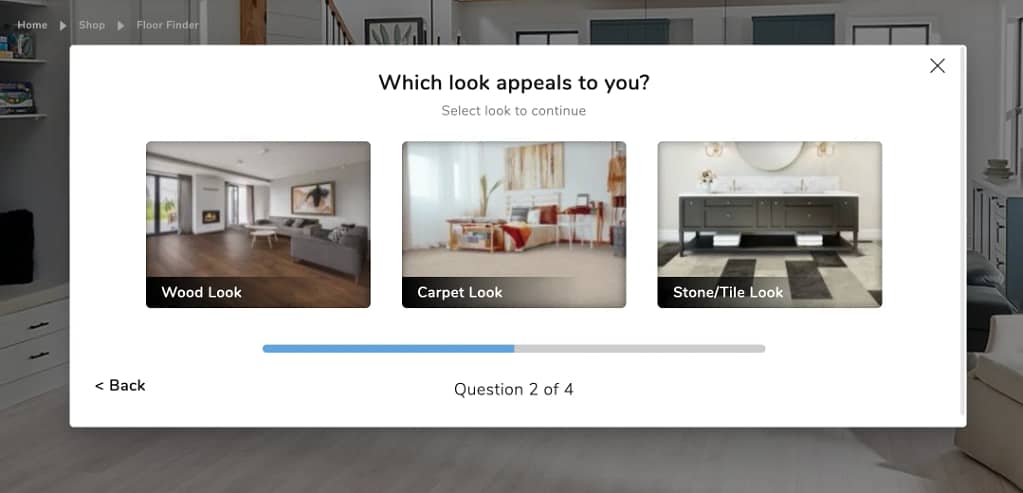 4. Real-life project inspiration
Even with the experiences listed above, it can be hard for shoppers to know exactly what they want. Because, with home decor projects, it's not just about the look or features of individual products. It's about how all those products come together to create a living space that people can picture in their homes. So, that's where you need to focus your efforts.
Show people what's possible.
You can do this by sharing photos of your products in staged rooms, known as "room scenes," but it's also important to show your products in real-life settings as a form of social proof – the notion of consumers being influenced by what others are doing, or in this case, buying.
Daltile, for example, has a collection of Instagram posts on their homepage – shared by various home designers and decorators – featuring images of their tiles in bathrooms, kitchens, and other spaces. In addition, they have a dedicated page showcasing home projects undertaken by their influencers who are using Daltile products, and a similar one for their products that may have been seen on TV.

5. Room visualizers
Showing customers your products in other people's spaces is a good way to get them inspired. But in order to create an emotional attachment and the level of confidence required to go ahead with a purchase, you can't beat showing them your products in their own home.
So, how can you accomplish this in an online setting?
Room visualization.
In today's day and age, room visualizers are an essential component of any home decor website. In fact, every home decor brand referenced in this article has Roomvo's visualizer embedded on their website. With Roomvo, customers just need to upload a photo of their room, select a product from your catalogue, and within seconds they'll be able to see their newly designed space with your products in their home – whether it's flooring, rugs, wall coverings, paint, or countertops.
Roomvo helps turn more browsers into buyers, giving them the confidence to make their dreams a reality. And for manufacturers and retailers, it's proven to increase conversions by up to 5x.
For maximum visibility, Shaw Floors has their Roomvo-powered visualizer featured on their homepage, as a dropdown option within their top navigation bar, and through a "View in my Room" button placed directly on their product pages.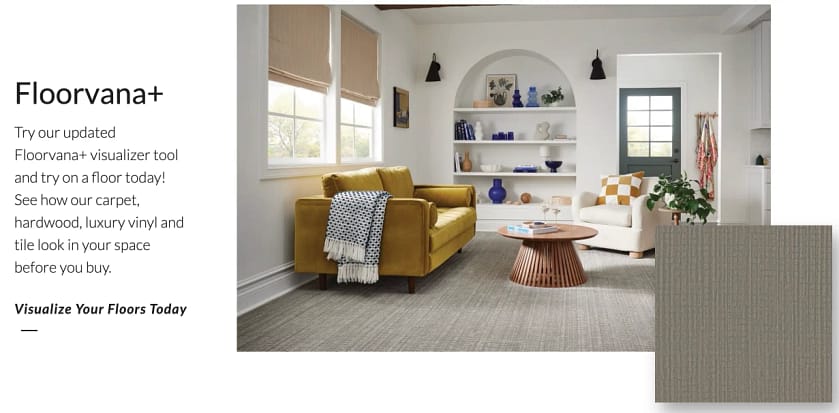 6. Calculators
So, you've got your customer hooked, and they're ready to make a purchase. Unfortunately, with a lot of home decor/improvement products, it's not as simple as clicking "buy now." Whether it's flooring, tile, or paint, you're going to need to help shoppers determine how much product they need to order.
For their Colour Spark collection, Rust-Oleum Canada does this with a simple calculator that recommends the number of gallons needed to paint a given room based on some basic information inputted by the customer.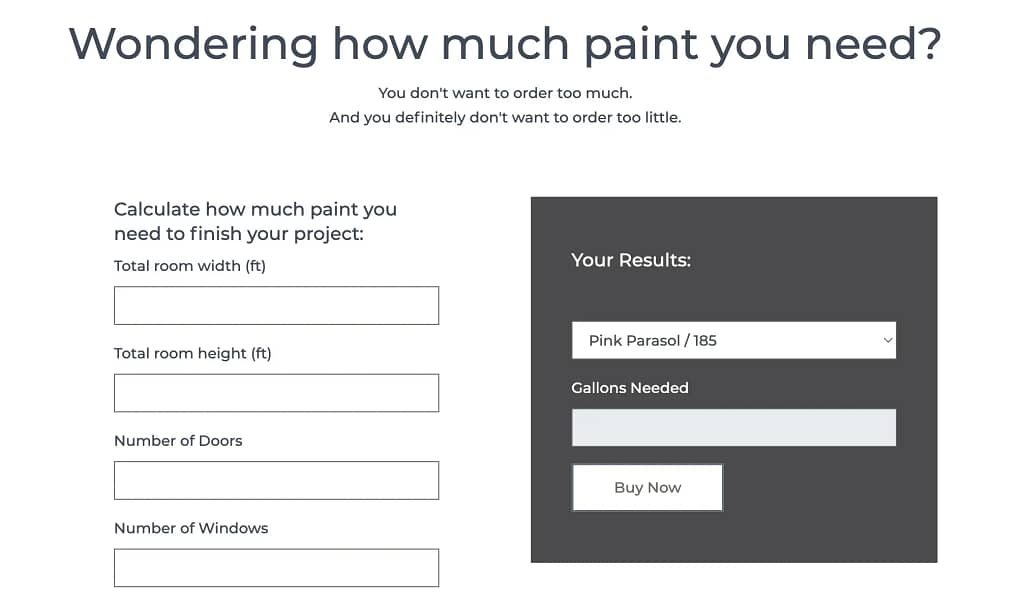 7. Blogs
Although they're not as visual or interactive as some of the previous experiences we've covered, there are still significant benefits to having a blog on your home decor website. One of the main ones?
Lead generation.
In fact, Hubspot found that businesses with blogs have 97% more inbound links and 434% more indexed pages – both of which increase the chances of your website getting discovered on search engines – as well as 55% more visitors. And, as we know, more visitors means more potential for conversions.
Not to mention: "lifestyle" and "DIY" are among the most popular types of blogs, according to Mailchimp, and both of them tend to incorporate home decor content.
There is no shortage of topics you can cover in your home decor blog. Flooret, for example, shares design advice, customer stories, industry trends, and more.
8. Virtual samples
Samples are a great way to help customers get up close and personal with your products, but what if they don't want to wait? Enter virtual samples.
On The Home Depot website, for instance, shoppers can rotate a product to view it from every angle, zooming in and toggling between night and four different daylight settings. 
Take your home decor website to the next level
Your website is one of the best tools at your disposal to build brand awareness, boost credibility, and drive conversions, but it can't just be a static site with some text and product imagery. With engaging, helpful content experiences, you can set yourself apart from the competition and accelerate business growth.