These days, almost every homeowner begins their home renovation journey online.
Picture your next customer. Before they've even stepped foot in a showroom, they've already spent hours in the digital marketplace. Searching for the best brands, the best products and, most of all, the best shopping experience.
That means, for almost every new customer that enters your showroom, they've seen at least something about your brand online and liked it. So you must be doing something right.
But what about the shoppers who went elsewhere? Did your competitors offer a more interactive experience online, or was their product presentation better?
Roomvo's visualization platform could be the answer to both concerns — and more. Here's how Roomvo helps manufacturers and retailers attract more customers, deepen their engagement, and ultimately, accelerate sales.
1. Accelerate sales
Room visualization gets customers excited about your products, showing how different flooring, rugs, countertops, paint and more would look in their homes before they actually purchase.
The Roomvo visualizer works with your customer's phone or desktop, with no app or special device required. All shoppers have to do is snap a picture of their room and upload it to the visualizer on your website.
After seeing your products visualized in their space, customers are 5x more likely to purchase. They've no doubts about how your products will look in their space, and they feel more confident about making a commitment.
Free from worry, customers make quicker, better-informed purchase decisions when using the Roomvo visualizer, which means accelerated sales for retailers and manufacturers.
2. Deepen customer engagement
One of the best things about Roomvo? Shoppers can try out hundreds of different products from the comfort of home. And they can do it all digitally, in seconds, at no expense.
With Roomvo at their fingertips, shopping for home renovations can actually be fun. With just the swipe of a finger, customers can explore whole new design possibilities.
As a result, customers spend more than 2x as long on your site when using Roomvo, and they view up to 4x more products per session. The more time shoppers spend on your site, the greater chance they'll find their match.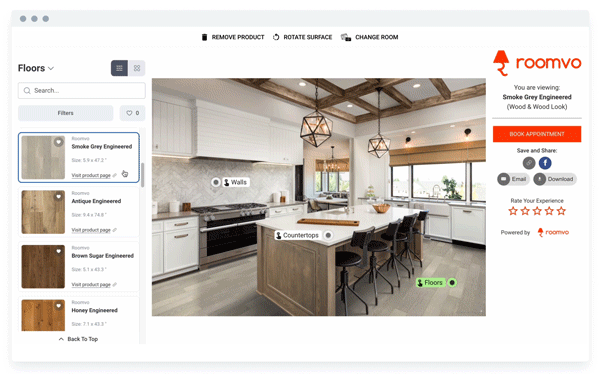 3. Transform the showroom experience
Room visualization isn't just something for the digital domain — it's a game changer inside the showroom too.
Take interactive kiosks, for example. Built specifically for touchscreen terminals, Roomvo Kiosk allows customers to explore your entire product catalog in widescreen format.
The kiosk is well-suited for customer collaboration, and it allows them to explore your entire catalog on their own or with a loved one.
Roomvo Kiosk pairs perfectly with QR codes too. Print your own Roomvo QR Code stickers and add them to product samples and displays in-store. While browsing your showroom, customers can scan the codes with their phones and compile a list of favourites to visualize on the kiosk later.
4. Attract more customers.
Room visualization is a powerful way to make your brand and products stand out online.
After experimenting with your products in their space, shoppers form an emotional connection with your company and your products. By providing your customers with a fun, frictionless visualization experience, you're instilling trust in your brand. So when customers head to the showroom, your brand will be top of the list.
How to get started with room visualization
Start by assessing your needs. What level of integration do you require?
If you're an independent retailer, adding Roomvo to your website can be as simple as adding a line of code. Or if you want a complete, custom website with the visualizer fully integrated, you could request one built from scratch.
Enterprise retailers and manufacturers would be best advised to integrate Roomvo into your existing site. The more entry points you have to the visualizer, the more your customers will make use of it. Roomvo can also be fully integrated into ecommerce sites to maximize conversions.
No matter the size of your home decor business, room visualization could be the solution to driving more customers to your showroom — and the checkout.