The uncertain economic outlook is making shoppers cautious, but people are still prepared to pay more for exceptional customer experiences.
That's according to a recent Invoca survey, which found 72% of participants reconsidering large investments like home renovations due to the economy.
Nevertheless, according to the same report, 63% of participants said that they would pay more for a product to get superior customer service. And if the retailer slips up? 76% of participants would stop doing business with you after just one disappointing experience.
So how to avoid disappointment? Retailers must deliver a seamless customer experience in every interaction, harnessing new technology to offer personalized service, immersive shopping experiences, flexible fulfillment, and modern payment options.
Here are five ways ecommerce retailers are harnessing tech to raise the bar for customer experiences in 2023.
1. Fully-integrated, omnichannel retailing is a minimum requirement.
Seventy-three percent of customers interact with multiple channels before purchase, and successful omnichannel retailing requires a consistent, cohesive experience delivered across each of these interactions.
Whether customers interact with your brand by telephone, website, social media, email, WhatsApp, web chat, or in the showroom, the buying experience should be the same from start to finish. That means the same messaging, branding, and product selection throughout the buying journey.
For example, Roomvo recently launched the Roomvo Kiosk to help bridge the gap between the showroom and digital channels. While shopping in-store, shoppers can now scan QR codes on product displays to send them to the 43" touchscreen, where they can see what the products will look like in their homes. When customers are finished at the kiosk, they can email the shortlist to themselves to continue the visualization experience at home.
2. Unified commerce is taking omnichannel a step further.
While omnichannel retailing focuses on the front end of your business – what your customers see – unified commerce brings your channels together on the back end by storing all data in a single centralized platform.
By integrating all your customer data into one platform, unified commerce ensures a smoother, more consistent, more personalized experience throughout the ecommerce sales cycle, especially when customers are switching between points of contact.
For instance, if customers call or send you a message on web chat, you should be able to see their basic details, recent interactions and purchase history – in-store and online – for a more personalized, more efficient, and quicker interaction.
By speeding up transactions, unified commerce helps fight customer attrition. In the latest Ipsos study on e-shopper expectations, 61% percent of respondents said that saving time is a decisive consideration in their shopping experience. If customers can't switch between your points of contact fluidly, they won't be afraid to switch to an alternative store.
In addition, unified commerce opens up more possibilities for personalization in your marketing efforts. For instance, If you send a marketing email to your distribution list, you should personalize the subject and salutation with the customer's name and include relevant suggestions for products or content. Sending emails with a personalized subject line improves open rates by 26%, while marketers have achieved a 760% increase in revenue from segmented campaigns.
3. Augmented reality (AR) is in demand.
By 2024, 1.73 billion people worldwide will be AR users. With the growing demand for immersive shopping experiences online, the augmented reality in retail market size is projected to increase from USD 2 billion in 2021 to USD 61.3 billion by 2031, growing at a CAGR of 41.4% percent from 2022 to 2031.
AR is transforming retail, offering customers fun, immersive experiences. In the home decor industry, AR empowers customers to shop with confidence and make purchase decisions faster, empowering ecommerce retailers to boost engagement and conversions.
For example, Flooring Supplies UK partnered with Roomvo to offer the visualizer for rug and flooring products. Within a year of using Roomvo, the company had logged over 2 million product views and achieved a 2.7 times increase in conversions.
"Roomvo is exactly the kind of experience we want to offer our customers on their buying journey," said Stewart Barnes, director of operations at Flooring Supplies UK. "It's fast, it's fun, and it really helps them make purchase decisions quickly."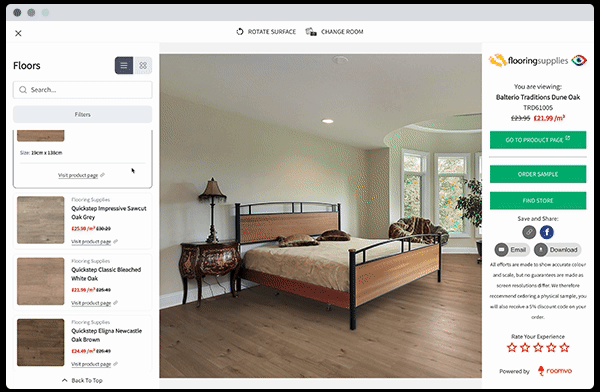 4. Flexible fulfillment options like BOPIS continue to grow in popularity.
Companies responded quickly to demand for flexible fulfillment options at the beginning of the pandemic and, due to their popularity, businesses are continuing to invest in last mile services like Buy Online Pick Up In-Store (BOPIS); in-store purchase, home delivery; and online purchase, in-store return.
The worldwide BOPIS industry alone is estimated to be worth $703 billion by 2027. So what's the appeal?
Consumers enjoy being able to pick up purchases on their own schedule, as well as reducing or eliminating shipping costs.
For retailers, making it easy for consumers to pick up purchases in person ensures more transactions are completed, with up to 60% of abandoned carts caused by unexpected shipping costs, taxes, or fees.
5. Flexible payment options are in demand too.
Abandoned carts are also caused by a lack of flexible payment options, with 7% of shoppers ditching their basket because the retailer didn't offer enough alternative payment methods like shopping apps, digital wallets, and buy now, pay later.
In 2021, digital wallets made up roughly half of worldwide e-commerce payment transactions, making them by far the most popular digital payment method globally. This segment is set to rise to over 53% in 2025. To attract the growing number of millennial homeowners on the market, retailers need to offer modern payment solutions.
More connected, more personalized, and more engaged.
With customer experience expectations evolving in 2023, flooring retailers are working hard to move ecommerce sales over the line and retain customers for the future. Fortunately, technologies like unified commerce and augmented reality are opening up possibilities for delivering customer experiences that are more connected, more personalized, and more engaging.
Connect with Roomvo and see how you can get double the engagement on your ecommerce website.