"Can consumers picture it? That's what it comes down to," said Scott Levy, president of Arley Wholesale Inc., the leading tile, stone, metal and sundry products distributor on the United States East Coast. "These are expensive items, and they're not decisions that customers make lightly. But when customers can imagine the product in their homes, that's when they fall in love."
To help the imagination, businesses have traditionally sent samples to the customer. But that comes with its limitations.
"A lot of the time, customers want to see your hottest selling line, but every time the hottest selling line leaves the store, it's no longer in the store for the next consumer to see. So we looked at the different cost scenarios and wondered – why not do it digitally?" said Levy.
That's where the room visualizer comes in. Customers simply snap a photo of their room, upload it to the visualizer, and swipe through products to see which looks best. Once the customer has found their match, they head to the retailer to make their purchase.
For Levy, the Roomvo visualizer has given him a competitive edge.
"Roomvo has been an invaluable tool for us. The consumer can now shop at home, on their own, and they can see the products in their house. It takes away all the worry they had, and helps them get to a purchasing decision faster. If you can get to customers in their home, and your competitor can't, you've got the competitive advantage," said Levy.
Up to five times the conversions
By taking away the worry, visualizers like Roomvo boost sales for manufacturers, distributors, and retailers alike.
"If someone visualizes a product in their space, they're five times more likely to make a purchase," said Josh Ruff, vice president of revenue at Roomvo.
As well as taking away the worry, visualizers encourage greater engagement with products, with customers spending twice as much time interacting with products when using Roomvo. By allowing consumers to visualize the products in their actual homes, businesses see customers interacting with more of their products.
"Consumers look at 16 to 20 products using a photo in their own space compared to preset room scenes, where we typically see customers looking at four to six products on average," said Ruff.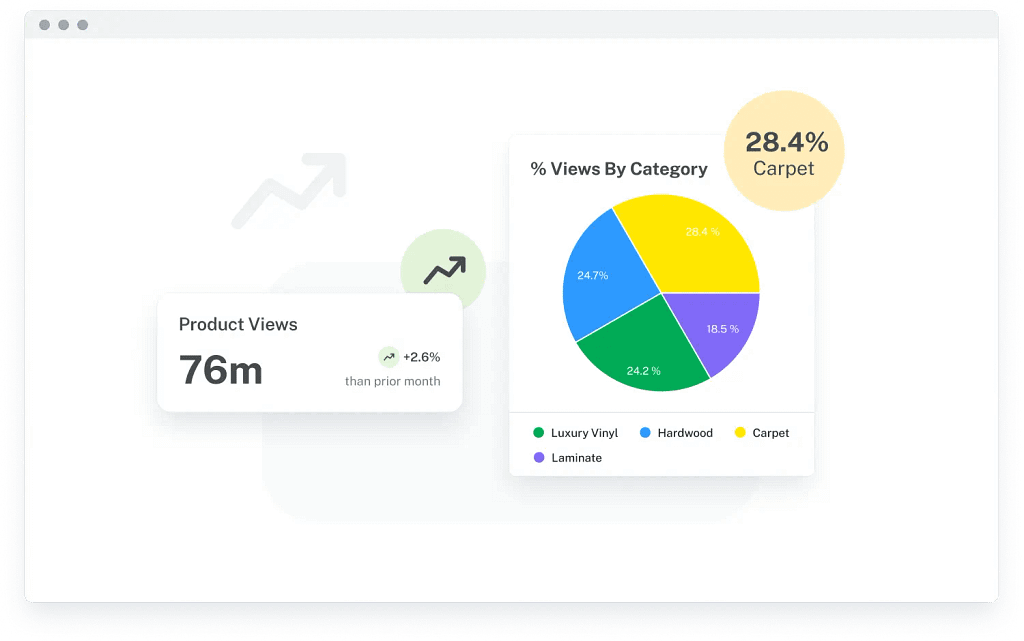 Businesses can predict industry trends by studying how customers use the visualizer on their website.
Predict industry trends before they happen
By looking at which of their products are being viewed most, manufacturers and distributors can gain valuable insight into consumer behaviour.
"Businesses in the home decor space are becoming more data-driven, and they want to know more about their customers. That's why visualization platforms like Roomvo are so unique," said Ruff. "Manufacturers and distributors can see which products are being visualized most across their networks, as well as which products are being looked at in particular regions. Businesses can access an abundance of their customers' data, which can help predict trends and drive business decisions."
By analyzing consumer data on Roomvo Pro, Arley Wholesale has been able to spot trends before they actually happen.
"Slate was out of fashion for a long time, until about eight months ago," said Levy. "All of a sudden, I see on the visualization tool that the popularity of slate is increasing again. That told me a trend was coming, so I could go out and fill the pipeline with this product. Roomvo allows me to see a trend is coming before it's actually happening."
With Roomvo's data, we can prove to retailers that the product deserves to be at the front of the store. This isn't me telling the retailers to do this – it's the consumer.

Scott Levy, President, Arley Wholesale Inc.
Strengthen retailer relationships
Data isn't just about predicting industry trends; it helps open the dialogue with retailers too. If products are being visualized but aren't selling well, manufacturers and distributors can investigate why.
"We've seen it multiple times. A product line is in the top 20 of my visualizer, but it's not in the top 20 of my sales. Why?" said Levy.
"A lot of the time, the product is four or five years old, and retailers have moved it to the back of their stores. It's still an amazing product, but their sales staff aren't focused on promoting it. With Roomvo's data, we can prove to retailers that the product deserves to be at the front of the store. This isn't me telling the retailers to do this – it's the consumer."
Choose a visualizer that's easy to use
Visualizers should be easy to use for consumers and retailers. If visualizers are too difficult to figure out, they might not be used at all.
"Many of the retailers I work with don't have a lot of technical experience, which means I had to choose a visualizer that's simple and easy," said Levy.
Opt for a web-based visualizer, which means no app download is required. The visualizer can be integrated into the websites that you and your retailers are already using. If you need a new site, some visualization companies can even build a whole new website for you, complete with visualizer integration.
Get ahead of the competition
In a crowded market place with similar product offerings, manufacturers and dealers need to differentiate themselves from the competition. With visualization becoming an essential part of the retail buying process, partnering with a visualization platform can help your business get ahead.
Click here to speak to a Roomvo expert and see how you can gain an advantage over your competitors.